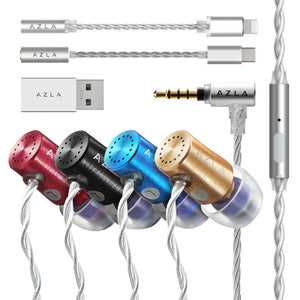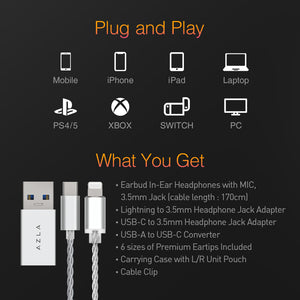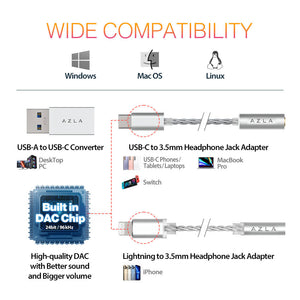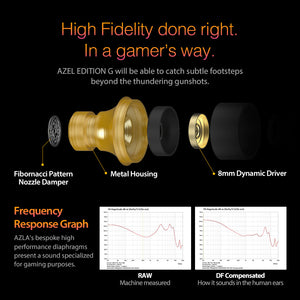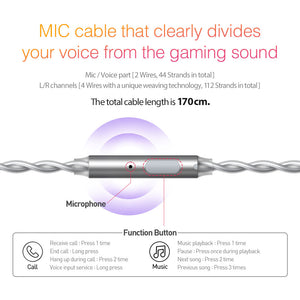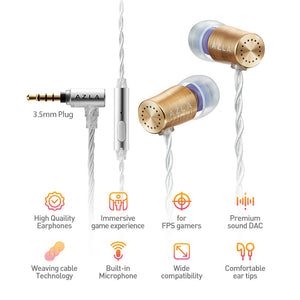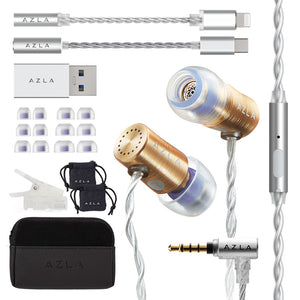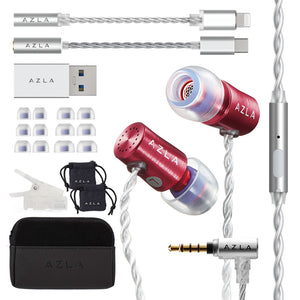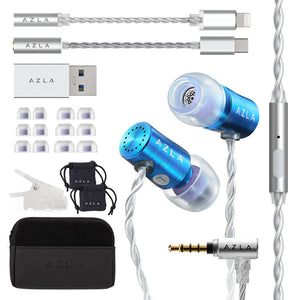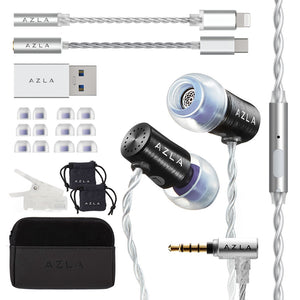 EDITION G uses the same bespoke dynamic drivers used for AZEL. Designed and tuned in-house. The diaphragm is capable of playing a wide frequency response that reaches 4hz~60,000hz, providing a punchy and lively sound. 
AZEL, the last in-ear product from AZLA's Panzer Dragoon project, made an encore comeback.
Fully redesigned and optimized for online gaming. 
Pivoting the FPS genres, we analyzed the sounds from a variety of game genres and styles.
AZEL Edition G
High resolution, self-manufactured 8mm diaphragms

Premium metal cavity engraved with fine hairlines.

Special weaving technology for separating voices from the gaming sound.

3.5mm to USB Type-C converter housed with high-quality DAC

(MFi) 3.5mm to Lightning DAC

First-ever presenting SednaEarfit eartips.
High Fidelity is done right.
In a gamer'

s way.
AZEL EDITION G presents an immersive and realistic sound based on its rich and lush bass reproduction.
Equipping yourself with an accurate, detailed-sounding environment will show you clear differences, especially when playing FPS-based games. 
Our focus was to make the sonic staging and distancing evident as possible, from front to back and side to side. 
Thanks to its ability to play beyond 10kHz, AZEL EDITION G will be able to catch subtle footsteps beyond the thundering gunshots. The more realistic the sound is, the better you'll seize the leadership.

Frequency Response Graph
AZLA's bespoke high-performance diaphragms present
a sound specialized for gaming purposes.
Uncompromising balance/quality control
Having a perfectly balanced L/R channel is crucial for pointing out the accurate direction of the sound source. 
Every earpiece of EDITION G is strictly and thoroughly inspected by our skilled senior technicians.

We also provide a USB Type-C converter. Topped with a high-quality DAC.   
This provides easy connectivity to your jack-less smartphone, as well as serves to generate a better sound quality since the DAC serves as an external sound card.
(Supports 24-bit / 96kHz playback, Comprised of 144 strands of 6N Silver-Plated OCC wires wrapped with 200D Kevlar sleeves, leading to lightning-fast transmission speed and resistance to unwanted noises.
(USB Type-A converters for PC)
(Supports USB 3.1/USB 3.0/USB 2.0 ports)
-
It uses the same high-quality DAC for you to enjoy the same sound. Regardless of your choice of device. 
By connecting the DAC to a desktop or a laptop, you'll be able to enjoy a lot better sound quality, plus a larger volume. 
AZEL EDITION G works great on PCs, laptops, smartphones, tablets, or even on game consoles or Nintendo Switch! Gear yourself up with the included USB Type-C converter to enjoy its ultimate sound quality. Also included with a USB Type-C to USB Type-A converter for even wider usage of the DAC.
#Desktop PC #Laptop #Game console #Nintendo Switch #Smartphon

e
MIC cable that clearly divides your voice from the gaming sound
Having equipped a mic cable is the largest difference from the original AZEL.
It was also the toughest part as we designed AZEL EDITION G.
As you communicate with your team through an earphone mic,
the sound that you receive would often leak into the mic, eventually causing confusion and making the conversation into a hot mess.
That is a problem. So we spent serious effort in minimizing such situations
by doubling the wire numbers from AZEL, making AZEL Edition G have 8 wires in total. 
Mic / Voice part (2 Wires, 44 Strands in total)
L/R channels (4 Wires with a unique weaving technology, 112 Strands in total)
Short cables are simply annoying especially during gaming. The total cable length of EDITION G is 170cm. Ideally sized for your pleasant gaming experience.
Be advised that the experience may differ depending on the specifications and environment of your PC. 
We suggest using the included USB Type-C converter when using. 
Top-notch quality accessories 
EDITION G includes a USB Type-C converter cable with DAC that serves as an external sound card,
a USB Type-A converter for PC/Laptop usage, 
a shirt clip for removing microphonics and adjusting the cable length,
a pair of soft pouches for protecting the earpieces,
and a well-made, dual-material carrying case. 
#1. SednaEarfit SE1000
#2. Soft protection pouches for L/R earpieces
#3. USB Type-C cable with high-resolution DAC (serves as an external sound card)
#4. Lightning to Headphone Jack
#5. USB Type-A converter for desktop/laptop usage
#6. Shirt clip for microphonics removal and adjusting cable length
#7. Dual material premium carrying case
#8. User guide
Featuring SednaEarfit SE000
SednaEarfit SE1000 proudly makes its first presence through AZEL Edition G, a new eartips product created by AZLA.
Manufactured by AZLA's production technique that has been exported to 11 nations, AZEL Edition G is the first product to be equipped with this new variation of our eartips products.
Created upon our production technique, SednaEarfit SE1000 uses silicone fluids as its material which provides great comfort even for lengthy gaming sessions. 
SednaEarfit SE1000 achieves outstanding sonic linearity, unprecedented fixation and isolation, and its globally recognized sound quality.
-------------------------------------------------------------------------------
Type: IN-EAR
Driver: Bespoke 8mm dynamic driver, Developed by AZLA
Sensitivity: SPL 1KHz 97dB
THD : <1%
Resistance: 24 Ohms (±10% 1kHz)
Frequency Response: 4Hz to 60kHz
Cable: Silver-Plated high-quality OFC / Mic cable: OFC (High-quality Oxygen-Free Copper)
Weight: 19g (Including the cable)